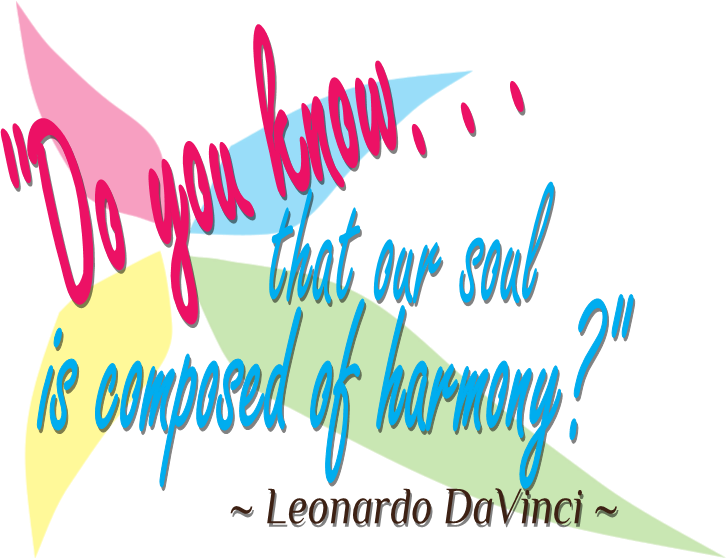 Learning to Love the Performing Arts


"It is in Apple's DNA that technology alone is not enough—it's technology married with liberal arts, married with the humanities, that yields us the results that make our heart sing."
–Steve Jobs, in introducing the iPad 2 in 2011
TOP CALIBER TEACHERS AND FACULTY

Performance WorX's ultimate goal is for our students and our community in and around the Pine Belt area to develop a love of the performing arts. We want to make a cultural and aesthetic contribution to the creative life of this area and our world. Our conservatory approach inspires our students to become life-long and generational patrons of the arts as well as vital contributors to the artistic life of our community through excellent training, community service, and performance opportunities.
Performance WorX provides performing arts education, enhanced technology for artistic expression, and a creative environment for real, inspired expression. Our environment and culture promote a spirit of artistry through lessons, classes, concerts, recitals, showcases, workshops, and conferences on the amateur, semiprofessional, and professional levels.
The experienced and well-trained instructors at Performance WorX give highly individualized attention to their students. Our goal is to meet our students at the point of their need, discover their innermost hidden talents, and to draw them to their highest level of artistry, whether that be personal enjoyment, performance coaching, or professional endeavors. Our diverse faculty is experienced in working with artists at all levels, whether novices or professional performers, and all levels in between!
This is why Performance WorX truly is the place "Where the Arts Come to Life!"
Over the years, we have had the pleasure of nurturing countless brilliant students and bringing out their inherent talents for the entire world to see. Our commitment to producing world-class artists is evident through our high-caliber mentors, comprehensive artistic classes, and passion for the arts. Call us and start your journey towards artistic excellence today.
Music | Acting | Dance | Production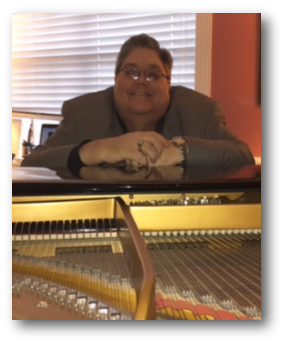 DOUG BROOME

Owner & Dean of the Studios
Piano and Voice Instructor
Doug has over 35 years of experience teaching through college-level vocal performance classes and specializes in technique and development in the Old Italian Bel Canto style; beginning through advanced piano for children through adults of all ages, specializing in adult fast-track piano, and coaching amateur and professional performers. He also has, for over 40 years, performed in recitals, concerts, musicals, operas, television, and worship services as either a pianist or singer. Doug holds the Master of Arts in Opera & Theatre Performance from The University of Iowa, both the Bachelor of Arts in Music and Master of Library Science from The University of Southern Mississippi, and is abD in Church Music/Vocal Pedagogy from New Orleans Baptist Theological Seminary. Today, he manages our daily operations as the Company Owner & Dean of the Studios at Performance WorX, and also serves as one of our resident piano and voice instructors. Go to Classes & Registration or call Performance WorX at 601.336.5313 to set up lessons with Doug Broome today!
BM, The University of Southern Mississippi, 1979
MA, The University of Iowa, 1982
MLS, The University of Southern Mississippi, 1987
abD, New Orleans Baptist Theological Seminary, 1985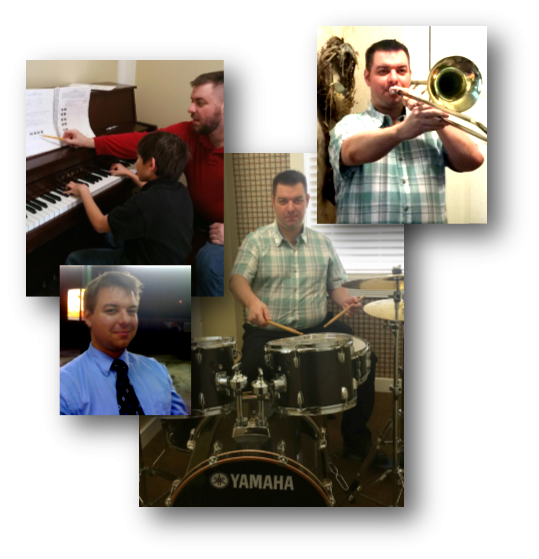 ROSS ANDRUS
Piano, Percussion, Woodwinds, & Brass Instructor
Music Theory Instructor


Ross Andrus has over 20 years of experience in trombone performance in Wind Ensemble, Orchestra, Jazz Combo, Big Band, Trombone Choir, and Drum Corps Marching. His music influences include Jazz greats: Duke Ellington, J.J. Johnson and Wynton Marsalis. Ross graduated with both a Bachelor of Music for Jazz Studies and a Bachelor of Music Education from the University of Southern Mississippi. Go to Classes & Registration or call Performance WorX at 601.336.5313 to set up lessons with Ross Andrus today!
BM, The University of Southern Mississippi, Jazz Trombone
BME, The University of Southern Mississippi, K-12 Music Education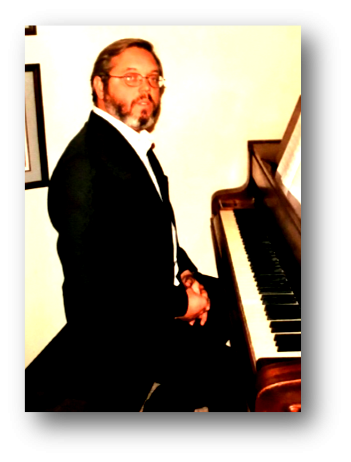 DANIEL BLYTHE
Piano Instructor

Performance WorX welcomes DANIEL BLYTHE to our Faculty as Piano Instructor. At four years old, his mother noticed an unstoppable curiosity for the piano; he would play around and make up melodies that seemed to make musical sense. So, at five she enrolled him in piano lessons and he never stopped all the way through grade school, high school, and on through college. At The University of Southern Mississippi, Mr. Blythe studied Piano Performance under Dr. Mary Ann Stringer. He graduated with a Bachelor in Music Education in 1997 and began teaching general music in public schools. Simultaneously he taught private lessons in his home and began an eighteen year run of performing and accompanying in local churches. Two of the larger churches Daniel held the position of pianist in were First Baptist Natchez and Central Baptist Hattiesburg.
Over the years, Blythe developed a passionate style of performing religious music that flowed over into his teaching style. He believes it is a gift to be able to help congregations have a worshipful experience and it is the job of the musicians in church to make sure the people leave with a change in their heart. Music can help the people worship, and sometimes we can touch them in their soul in an important way.
Not all students want to become church musicians or passionate performers, however, and Mr. Blythe believes it is equally important to teach them with as much energy. His teaching philosophy is that learning music helps develop the mind, especially in younger students. Putting together all the pieces and hearing a beautiful end result is awesome for students and opens up passages of thought in the brain that other subjects cannot do. And then, the joy and pride in the success of the result… the PERFORMANCE… teaches students to set a goal and make a habit of accomplishing it. In his public school experience, Mr. Blythe created large choirs of students and several instrumental ensembles and let the students get a taste of high-level performance. These groups had high applause, cries for encore, and hundreds of friends and family calling out their names in public. Then the schools made and sold professionally recorded CDs of these students and everyone Mr. Blythe taught got to feel what it was like to be famous. Teaching music is fun and rewarding for the students, not just the teacher, and Mr. Blythe hopes to give his students and unforgettable experience and great success in learning.
To set up private lessons with Daniel Blythe, call Performance WorX at 601.336.5313 or go to Classes & Registration.
BM, Piano Performance/Music Education, The University of Southern Mississippi. 1997
Graduate Studies for MM, The University of Southern Mississippi, 2003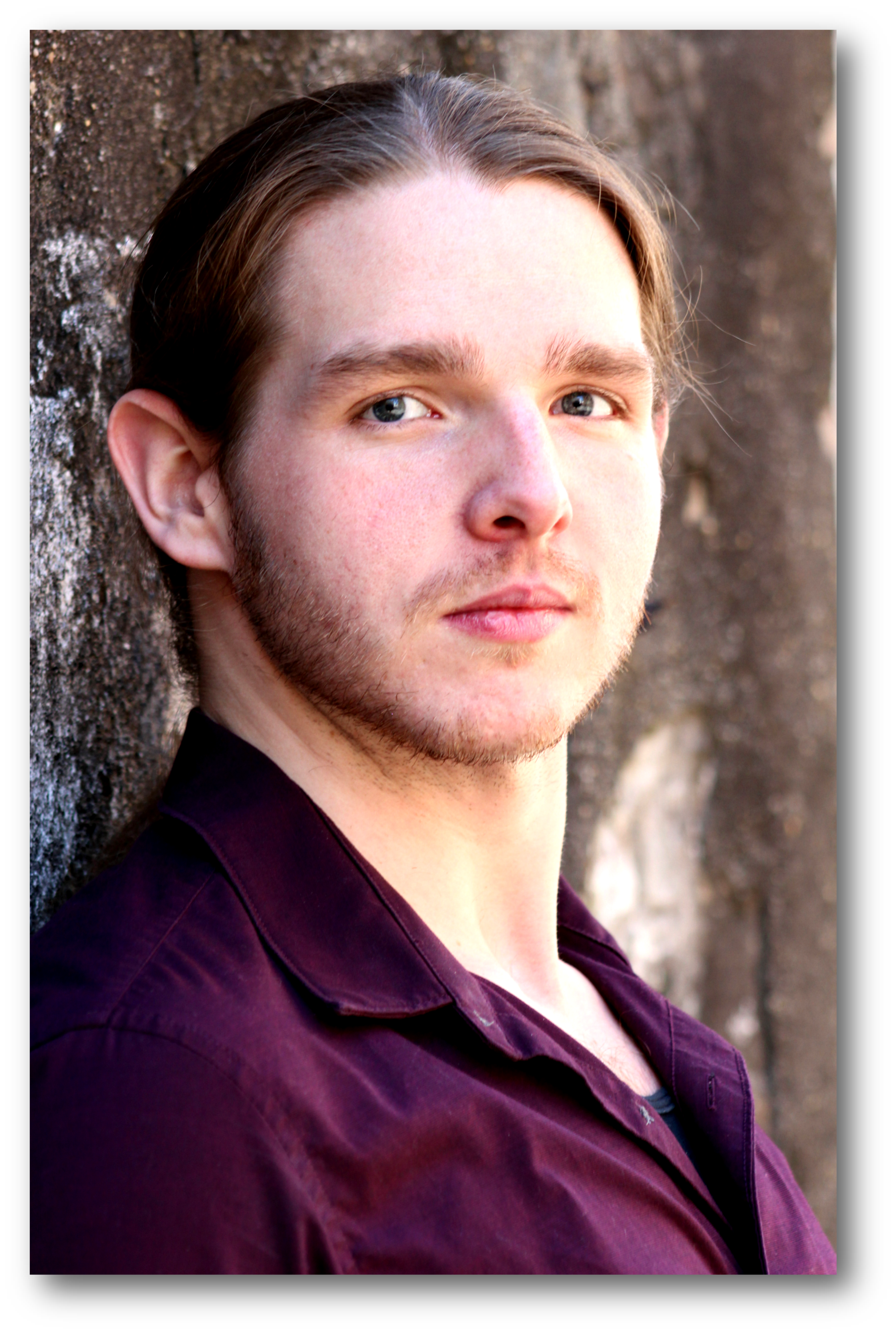 CASEY EDWARDS
Voice Instructor

Performance WorX welcomes Casey Edwards as Instructor in VOICE. Casey is a Mississippi native who began his multi-faceted musical education at the age of the eleven playing trumpet throughout middle and high school and slowly transitioned to a vocal emphasis while attending Jones County Junior College, where he participated in a myriad of both instrumental and vocal ensembles. After graduating with his associate of arts degree in May of 2011, he continued his education at the University of Southern Mississippi where he completed a bachelor of arts degree emphasizing vocal music with minors in speech pathology/audiology, psychology, and French language in May of 2014.
After completing his bachelor's degree, he relocated to Lubbock, Texas at the behest of a previous instructor, Dr. Rebecca Hays, to pursue a master's degree of music in vocal performance at Texas Tech University under the direction of Dr. Quinn Patrick Ankrum. While attending Texas Tech, he began to perform more as a tenor in an opera and musical theater capacity, and he began this path with the role of the Notary in Gaetano Donizetti's iconic opera Don Pasquale. As he developed as a musical and theatrical performer, he gained more confidence on stage and acquired opportunities to learn minor roles through various local musical theater companies, including the Courier in Edwards and Stone's 1776 and the Orderly in the world premiere of J. Todd Frazier's opera Breath of Life in 2015. In 2016, he performed in his first title role as Lance Goodhart/Narrator in Garrity and Latina's MY HERO! and continued performing in various capacities in Lubbock. Casey's most recent operatic role was that of Little Bat in Carlisle Floyd's 20th century opera Susannah in March of 2017.
Casey has also, through rigorous study, established himself as a performer of art song and has completed various recital projects covering numerous time periods. In 2016, he organized a recital focusing on the influential Baroque elements of Henry Purcell on the 20th century composer Benjamin Britten, in which he performed all nine pieces in Britten's cycle The Holy Sonnets of John Donne, Op. 35 as well as several of Britten's arrangements of Thomas Moore's Irish Melodies and several Purcell pieces with harpsichord to offer a historically-informed performance to his audience. His other recitals have included a similar emphasis on the tenorino/haute-contre repertoire of composers such as GioachinoRossini, Jean-Philippe Rameau, George Frideric Handel, Henry Purcell, and Gaetano Donizetti.
After completing his master's degree of music, he returned to Hattiesburg and began a master's degree of library of information science and graduate certificate in archives and special collections at the University of Southern Mississippi with the long-term goal of becoming a music archivist. He has continued performing and most recently performed the role of Phil Davis in a Hattiesburg Civic Light Opera production of Irving Berlin's White Christmas in December of 2017. Go to Classes & Registration or call Performance WorX at 601.336.5313 to set up lessons with Ross Andrus today!
AA, Jones County Junior College, 2011
BA, University of Southern Mississippi, 2014
MM, Texas Tech University, 2017
MLIS, University of Southern Mississippi, expected 2019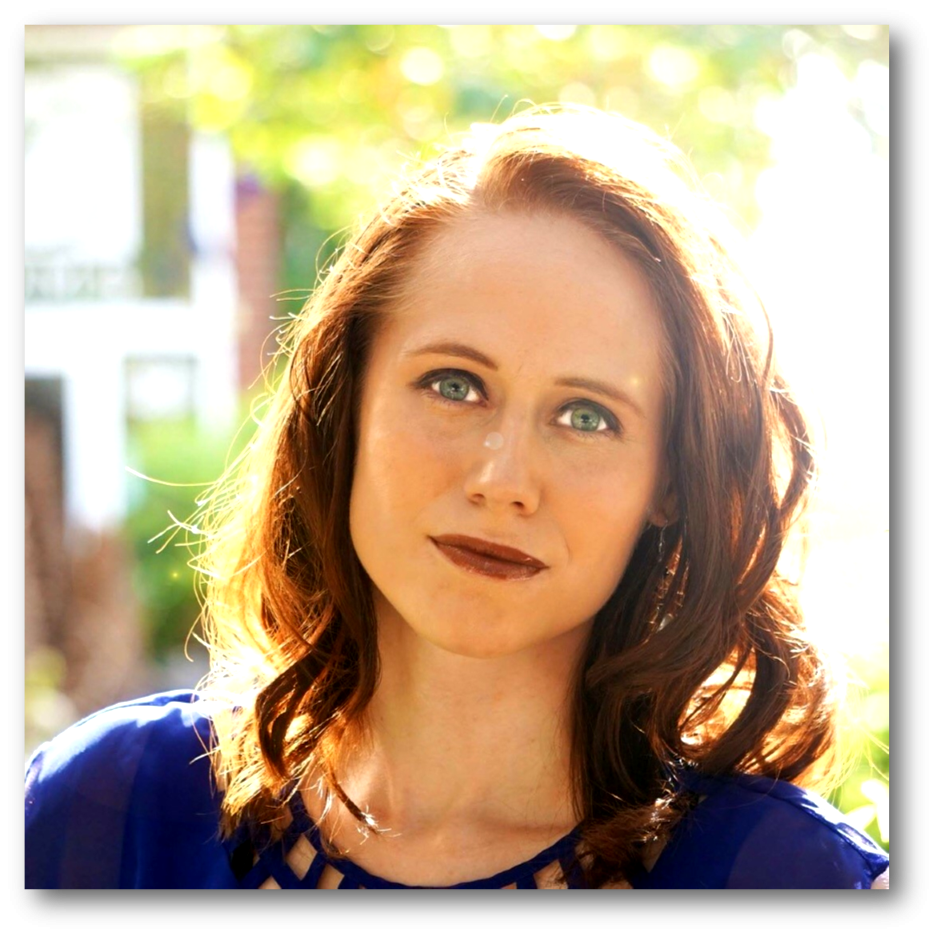 KATIE GLYDEWELL

Voice & Acting Instructor
Katie Glydewell is a trained dancer, singer, and actress. She is a current Music Education major at USM in Hattiesburg where she studies voice under Dr. Jonathan Yarrington. Katie has been involved in musical theatre for several years. She has starred in several productions along the Gulf Coast, some of which include Shrek the Musical as Princess Fiona (WINGS), The Little Mermaid Jr. as Ariel (GLT), Legally Blonde the Musical as Paulette (WINGS), and Les Miserables at BLT. Her most recent production was Mary Poppins at USM here in Hattiesburg, where she also debuted in her first opera theatre production The Merry Widow. Katie is also a member of the Southern Chorale and Southern Belletones (a capella) ensembles at USM. Upon completion of her undergraduate degree, she plans on continuing to teach for a few years before getting her Masters in Choral Conducting. Go to Classes & Registration or call Performance WorX at 601.336.5313 to set up lessons with Katie Glydewell today!

BFA, The University of Southern Mississippi, expected 2017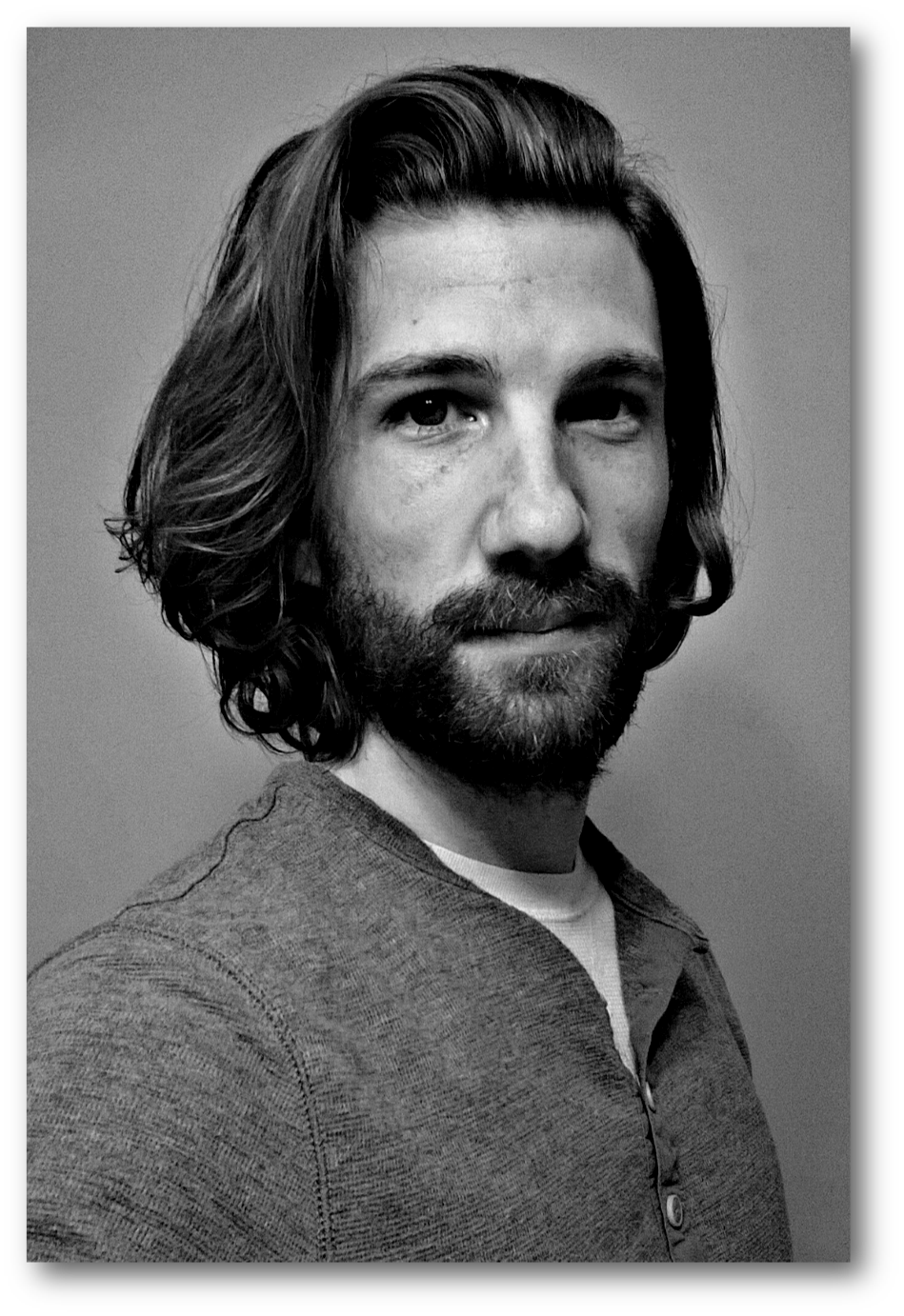 ANDREW GLOSE
Guitar Instructor

Andrew James Glose was born in Vicenza, Italy. After brief stays in Turkey and Washington state as a child, he settled in Diamondhead, MS, at the age of eight. Andrew began his music journey in the sixth grade, taking up the clarinet. Over the course of grade school he also played tenor saxophone and french horn for orchestral ensemble. During his four years in high school marching band, Andrew participated in marching and indoor percussion ensemble playing the tenor drums. It was in middle school that he took an interest in bass and electric guitar while playing in a neighborhood band. In 2005, he entered the Jazz Studies program playing bass at the University of Southern Mississippi in Hattiesburg. During college, Andrew gained experience performing in multiple major and small ensembles, including Jazz Lab Band, University Singers Choir, and multiple small jazz ensembles. Andrew graduated with a B.A. from USM in 2009 and began performing on bass guitar in local original and cover bands. In 2015, inspired by a buildup of original material and the sounds of the 80's, he recorded and produced an original album with band mate Jaime Jimenez as The 86 Olympics, where he wrote, arranged, programmed drums, sang, and played keyboards/synths. In 2016, Andrew began applying his studies to his newfound love of the electric guitar. Having grown up listening to the cassette tapes of Van Halen's "5150" and Def Leppard's "Hysteria," his earliest major musical influences, perhaps pursuing his passion for the electric guitar was only a matter of time. He continues to gig as a professional bassist and write, record, and perform with The 86 Olympics. Go to Classes & Registration or call Performance WorX at 601.336.5313 to set up lessons with Andrew Glose today!
BA, The University of Southern Mississippi, 2009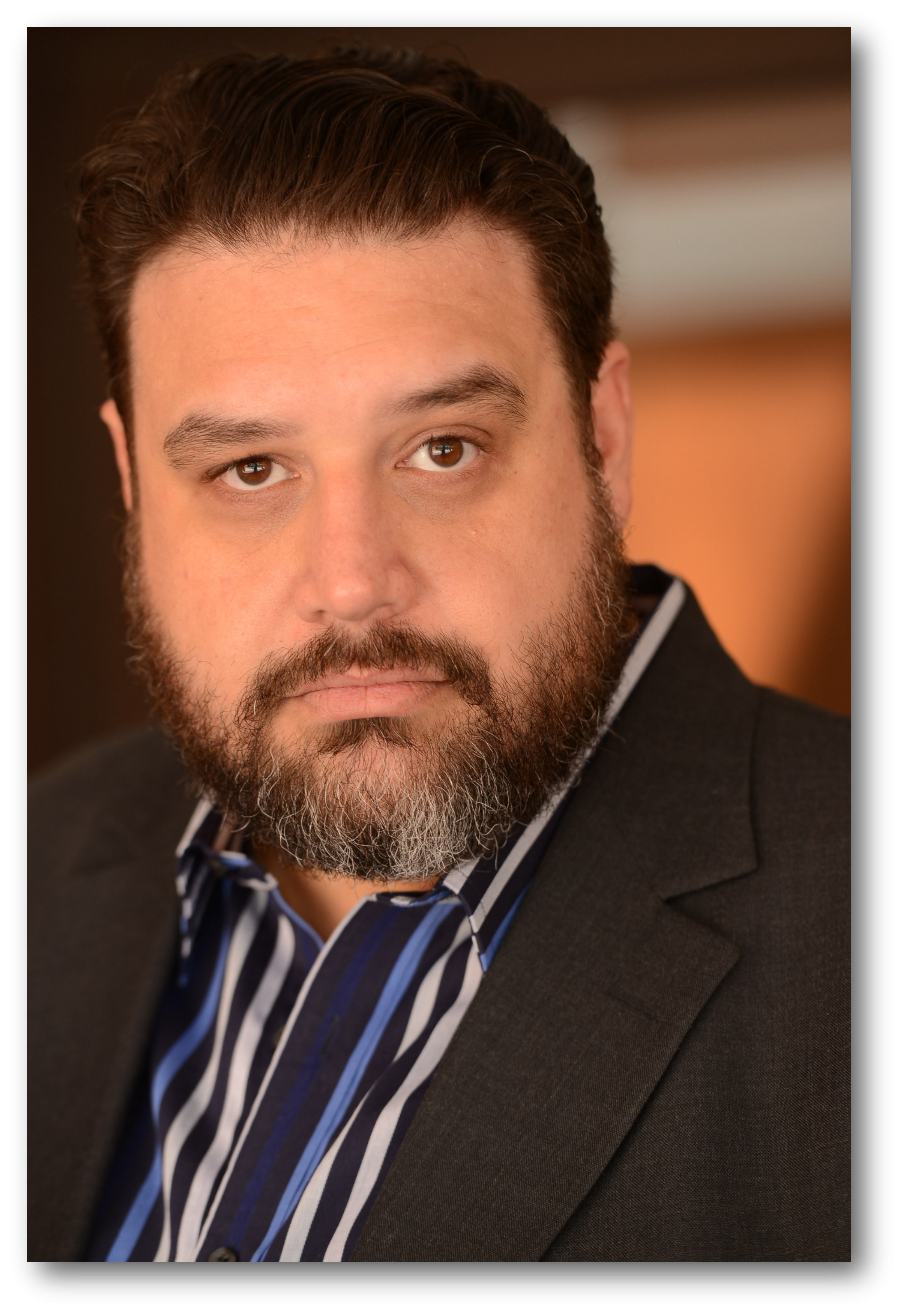 MATTHEW HUFFMAN

DIRECTOR, Acting WorX
Performance WorX welcomes Matthew D. Huffman as Director of Acting WorX. Matthew relocated from Northeast Tennessee to Hattiesburg in 2013, where he was a Graduate Assistant in the Department of Theatre at The University of Southern Mississippi from 2013 – 2016. While at USM, he taught Theatre Appreciation, Beginning Acting, and Acting for the Camera, along with serving as the Theatre's Box-Office Manager and Public Relations Coordinator.

Mr. Huffman holds his Bachelors in Performance Theatre from East Tennessee State University. Prior to his Bachelor's work, he received his Associates in Theatre degree at Northeast State Community College. Mr. Huffman has performed live on stage in over 30 plays and musicals. Some of his favorite roles include, Pyotr Sorin in The Seagull, George H. Jones in Machinal, Nick Bottom in Robin Goodfellow, Tom Snout in A Midsummer Nights Dream, Dr. Chumley in Harvey, Lord Capulet in Romeo and Juliet, Max Detweiler in The Sound of Music, Wilbur Turnblad in Hairspray, Lazar Wolf in Fiddler on the Roof, and Charlie Clench in One man, Two Guvnors. Matthew has also performed dramatic readings for The Symphony of the Mountains in Kingsport, TN, along with live radio voice acting for USM's live broadcast of On the Radio with Edgar Allan Poe for WUSM (88.5). He also has over 15 years of experience in performing with various church choirs, college and high school choruses, show choirs, and bands. Mr. Huffman has served as a substitute teacher for the past year in several local and regional schools, including Lamar County, Forrest County, and Hattiesburg School systems. He was the Drama Teacher for the entire fall 2016 semester at Lakeshore H.S. in Mandeville, LA, during the maternity leave of the fulltime teacher. At Lakeshore High School, he taught all levels of students in performance and general theatre. Matthew also has taught Theatre Appreciation as an Adjunct Professor at USM's Gulf Park Campus in Long Beach, MS. Mr. Huffman is trained in multiple acting techniques, including Voice and Movement. Mr. Huffman's students can look forward to excellent acting training and coaching. He specializes in preparing High School students in acting auditions for collegiate theatre programs. Call 601.336.5313 today to study with Matthew Huffman either privately of in one of our new Acting WorX classes beginning in October in the Studios of X-Finity Dance Academy! Go to Classes & Registration or call Performance WorX at 601.336.5313 to set up lessons with Matthew Huffman today!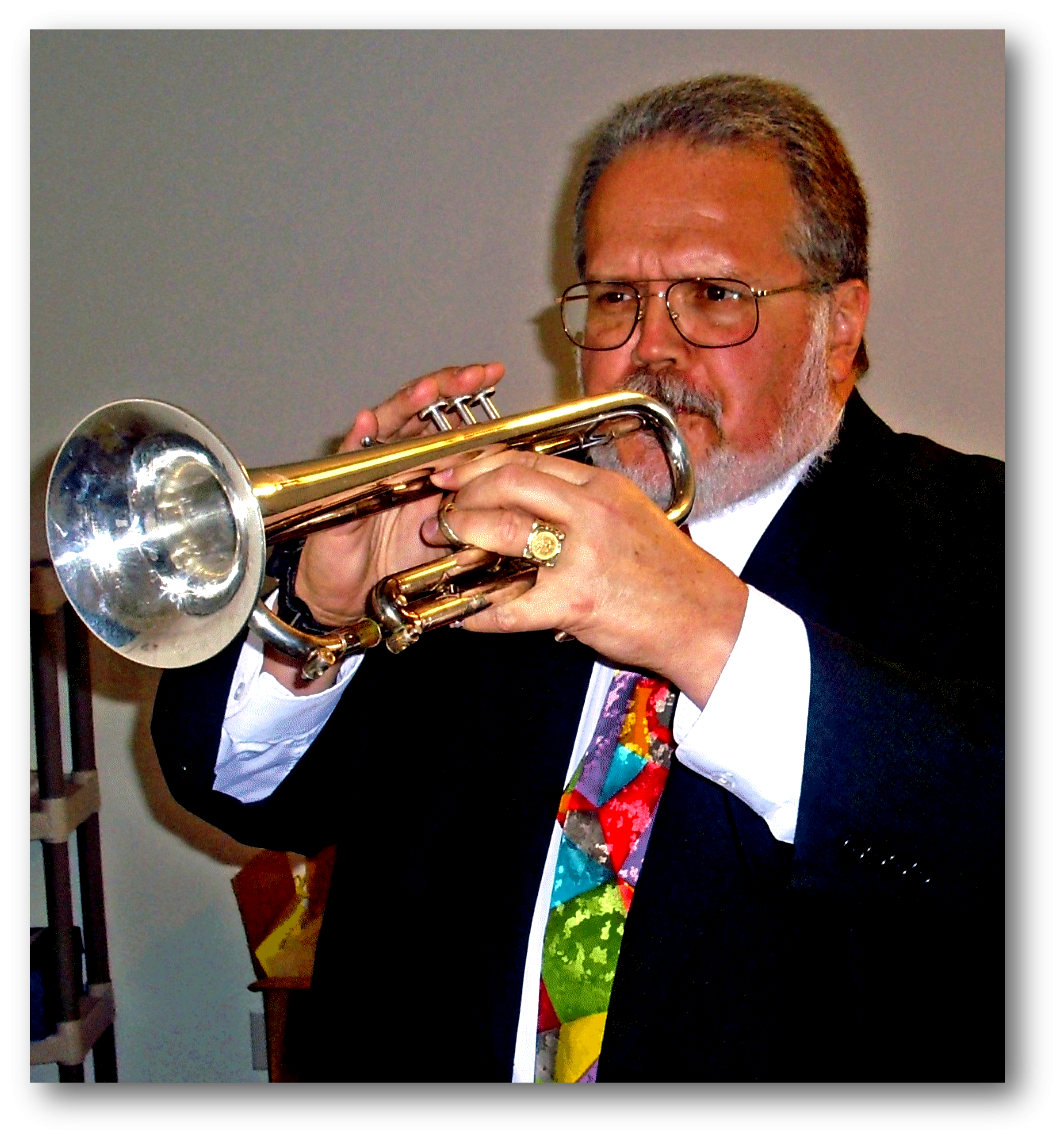 LELAND N. KORNEGAY

Trumpet, Trombone, French Horn, Baritone/Euphonium & Jazz Instructor
Leland N. Kornegay, a native of Jackson, Mississippi, graduated from Wingfield High School. Leland earned the Bachelor of Music Education degree from the University of Southern Mississippi, in Hattiesburg, MS. He later attended the University of North Texas, in Denton, TX, where he received the Master of Music Education degree, while engaged as a graduate assistant of Jazz Studies. In 2003, Lee received the Doctor of Musical Arts Degree in Trumpet Performance & Pedagogy from the University of Southern Mississippi.
Lee's musical career spans a period of over 25 years. As a professional musician, Lee has performed in various show business meccas, such as, Reno/Tahoe, NV; Atlantic City, NJ; Orlando, FL; and Branson, MO. Lee has toured both nationally and internationally. Lee's horn can be heard on the platinum recordings, Mr. Big Stuff, and Paul Simon's, Rhymin' With Simon album. Lee has performed with a variety of musical groups, such as The Temptations, O'Jays, Four Tops, the Lawrence Welk Orchestra, the Jimmy Dorsey Orchestra, Burt Bacharach, Wayne Newton, Sammy Davis, Jr. and a host of other celebrities.
In 1999, Lee returned to the University of Southern Mississippi to pursue the Doctor of Musical Arts degree. As a doctoral candidate, Lee served as a graduate assistant of Jazz Studies. During this period, Leland was also employed as an adjunct brass instructor at Mississippi Gulf Coast Community College.
Dr. Kornegay completed a one-year appointment as the Visiting Professor of Jazz and Instrumental Studies at Northwestern Oklahoma State University, in Alva, OK, where he offered instruction in music education courses, applied music, and jazz ensemble. Under his direction, the NWOSU Jazz Ensemble performed at the Wichita Jazz Festival in 2004, where one of the band members received an outstanding soloist award. After returning to Mississippi in 2004, Dr. Kornegay was employed as an adjunct music professor at Mississippi College, where he taught applied trumpet, brass methods, and directed the jazz ensemble. He was also appointed as an adjunct jazz ensemble director at Delta State University, in Cleveland, MS. In 2005, Lee became an applied music instructor and the director/arranger for the Youth Orchestra at the Crossgates School of Worship Arts in Brandon, MS, where he also played first trumpet in the Crossgates Baptist Church Orchestra. From 2008-2010, Dr. Kornegay served as the Assistant Professor of Music Industry at South Carolina State University, in Orangeburg, SC. During his tenure at SC State, he coordinated the music industry curriculum, provided instruction in music business and technology, and supervised music industry internships. From 2009-2011, Lee also performed regularly as a member of the South Carolina-based beach music variety band Second Nature. Dr. Kornegay was engaged as the Assistant Band Director at East Mississippi Community College, located in Scooba, MS, where he provided applied instrumental instruction and assistance with all aspects of the band program. Lee is in demand as a lead and jazz trumpeter, as well as an active music instructor, arranger, contractor, and clinician. Leland currently teaches applied music lessons at the Major Scales Music School in Clinton, MS. Go to Classes & Registration or call Performance WorX at 601.336.5313 to set up lessons with Dr. Leland Kornegay today!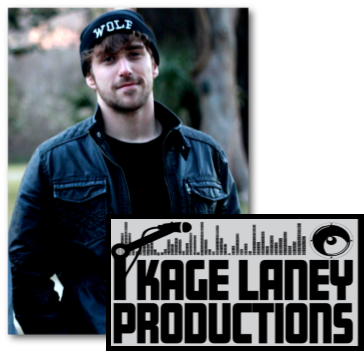 KAGE LANEY

Production WorX Director

Performance WorX proudly announces our association with Kage Laney and his company Kage Laney Productions! Mr. Laney will be teaching our Production WorX classes and Mentoring Program and supervising all of the Performance WorX Recital and Showcase events. "Kage Laney is a Gulf Coast native and has worked for multiple production companies in the Pine Belt. He has worked as an audio engineer for musical concerts, choirs, and theatrical productions. He finished the Recording Industry Production program at the University of Southern Mississippi in 2017. He began recording his friends in his bedroom at 14, and now works as both a freelance sound engineer and as a member of multiple production companies in various backstage and audio-related positions for everything from musical theatre to rock concerts to public speaking events. His most recent projects include the recording, mixing, and mastering of The Floridamen's debut EP "Four;" sound designing for Center Stage Theatre's production of "All Shook Up;" and working as a tech team member for a live performance by the Oak Ridge Boys."
Kage Laney Productions specializes in Recording, Mixing, Mastering, and Live Sound. Mr. Laney will be offering classes in Production through the Production WorX division of Performance WorX and offering our Students the opportunity to Mentor with him both in the Studio as well as in live events, giving them experience in action on the stage. Kage Laney Productions will also collaborate with Performance WorX in recording our performers and producing our live events. You can check out Kage's website at www.kagelaney.wixsite.com. Go to Classes & Registration or call Performance WorX at 601.336.5313 to set up classes, apprenticeship, or a recording session with Kage Laney today!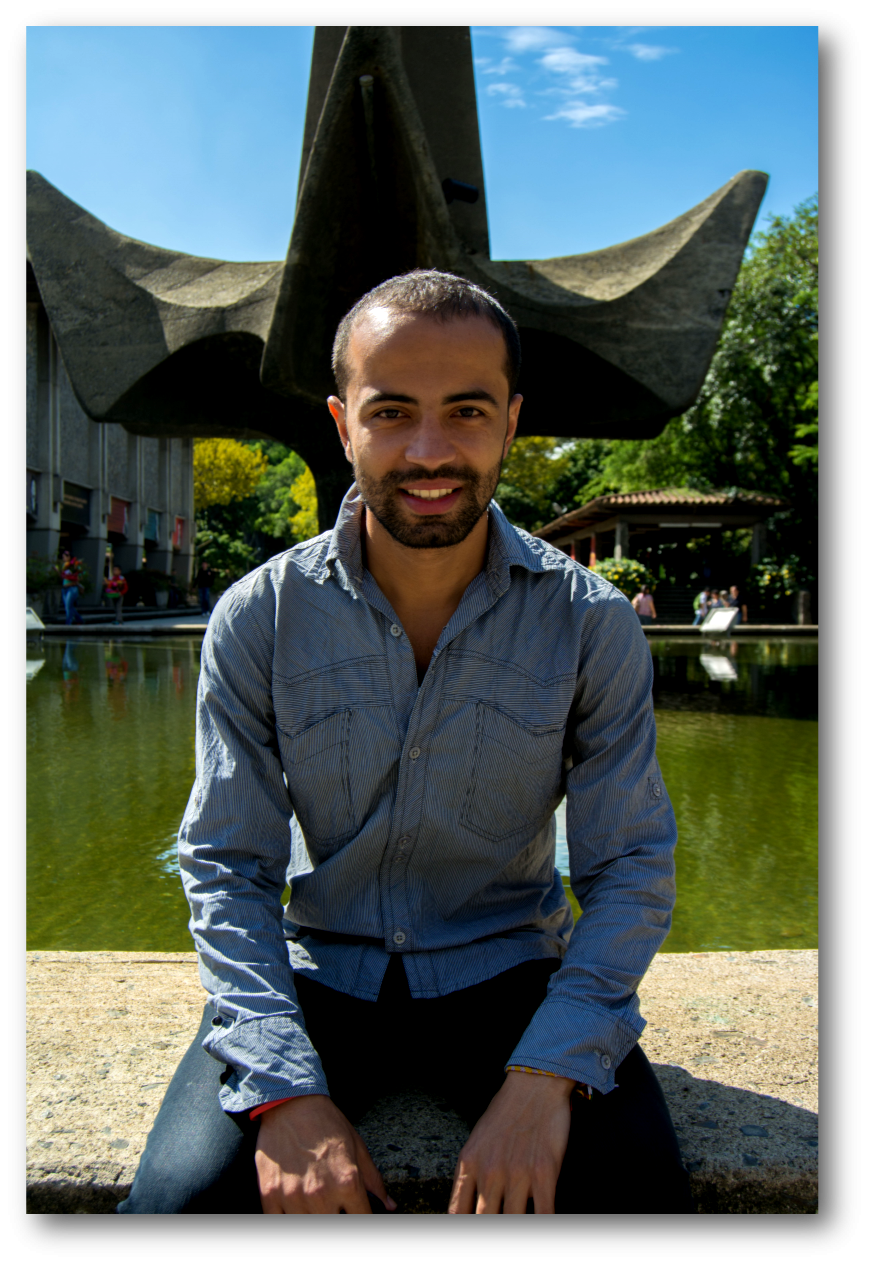 JORGE OSSA

Piano Instructor
Pianist Jorge Andrés Ossa is from Colombia, South America. Currently he is pursuing a Master of Music in Piano Performance with Dr. Elizabeth Moak at the University of Southern Mississippi. He has performed in various venues as a soloist and chamber musician throughout Colombia. In 2015, he was invited to participate in the Festival of the Americas in Iowa City where he had additional studies in piano technique and learning skills for the piano with Réne Lecuona. He previously studied piano with Ana María Orduz and Marina Gonzalez. He has performed in masterclasses of Teresita Gomez, Blanca Uribe, Jasmin Arakawa, Jeremy Samolesky, and Sergei Sichkov, among others. Jorge also holds both a Bachelor of Music in Piano Performance and Bachelor of Music Education from the University of Antioquia (Medellín, Colombia). In addition to performing, Jorge finds joy in teaching and has been active in this area since 2010. He taught for four years on the faculty of the extension program at the University of Antioquia, as well as for five years at Academía Musica Amadeus Colombia, and three years at the San Pablo Seminary. Go to Classes & Registration or call Performance WorX at 601.336.5313 to set up lessons with Jorge Ossa today!
HELENE TAVORMINA

Voice & Piano Instructor
Performance WorX welcomes Helene Tavormina as Instructor in VOICE & PIANO. Helene derives from the culturally influential city of New Orleans. Having taken vocal and piano lessons since age five, Helene wrote her first song during Hurricane Katrina in 2005 (nine years old). Since then, Helene has aspired to grow musically, with the help of multiple coaches and teachers. Helene's musical journey includes releasing an original album, selling multiple songs, getting accepted to Berklee School of Music, and even having meetings with the former Beatles manager, as well as the management of Cody Simpson and Justin Bieber. Aside from music, Helene also has much experience in the modeling and acting industries. She also maintains a 4.0 GPA at the University of Southern Mississippi, studying Recording Production with a Music Minor. When Helene takes a break from her daily schedule, you will find her writing new songs on the piano, finding any little experience she had that day to ignite her creative songwriting skills. With a kind heart, an intellectual mind, and a uniquely-creative songwriting style, Helene aspires to influence and inspire people through music. Go to Classes & Registration or call Performance WorX at 601.336.5313 to set up lessons with Helene Tavormina today!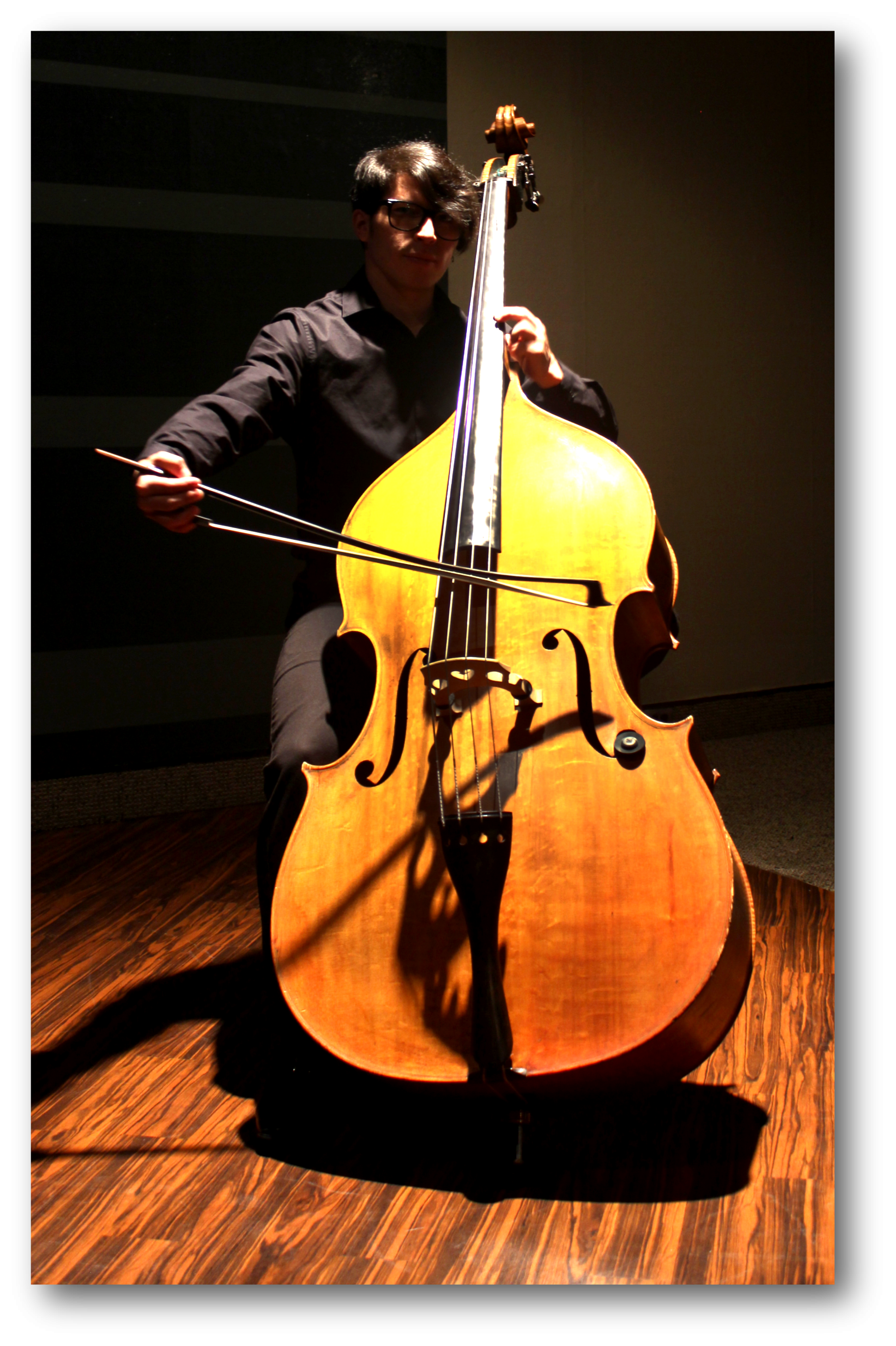 WILLIAM VALENCIA

Orchestral Strings Instructor

Performance WorX welcomes WILLIAM VALENCIA as Instructor in ORCHESTRAL STRINGS. William Valencia is a native of Ecuador, having been active in school, community, college, and professional performing and teaching the Double Bass. He is joining the Music WorX faculty as Orchestral Strings instructor. Mr. Valencia comes to us with over 11 years of experience in orchestral, solo performing and teaching. He has served as a Double Bass performer with Philharmonic of Ecuador, Meridian Symphony Orchestra, The University of Southern Mississippi Orchestra and Wind Ensemble. Throughout his career, Mr. Valencia has performed on the Double Bass with orchestras and independent groups in the United States, Ecuador, Argentina, and Brazil. He has served on the stage staff of Festival South in Hattiesburg and in Summer 2015 and 2016. He will serve as Director of Festival Musica Guaranda in Ecuador, leading the Festival, conducting master classes and improvisation workshops. He is a candidate for the Bachelor of Arts degree in Music Education at The University of Southern Mississippi. Mr. Valencia's students can look forward to excellent strings instruction emphasizing technical skills, rhythmic understanding, and quality musical experiences, covering many of the National Standards for Music Education.. Call Performance WorX at 601.336.5313 or go to Classes & Registration to set up lessons with William Valencia today!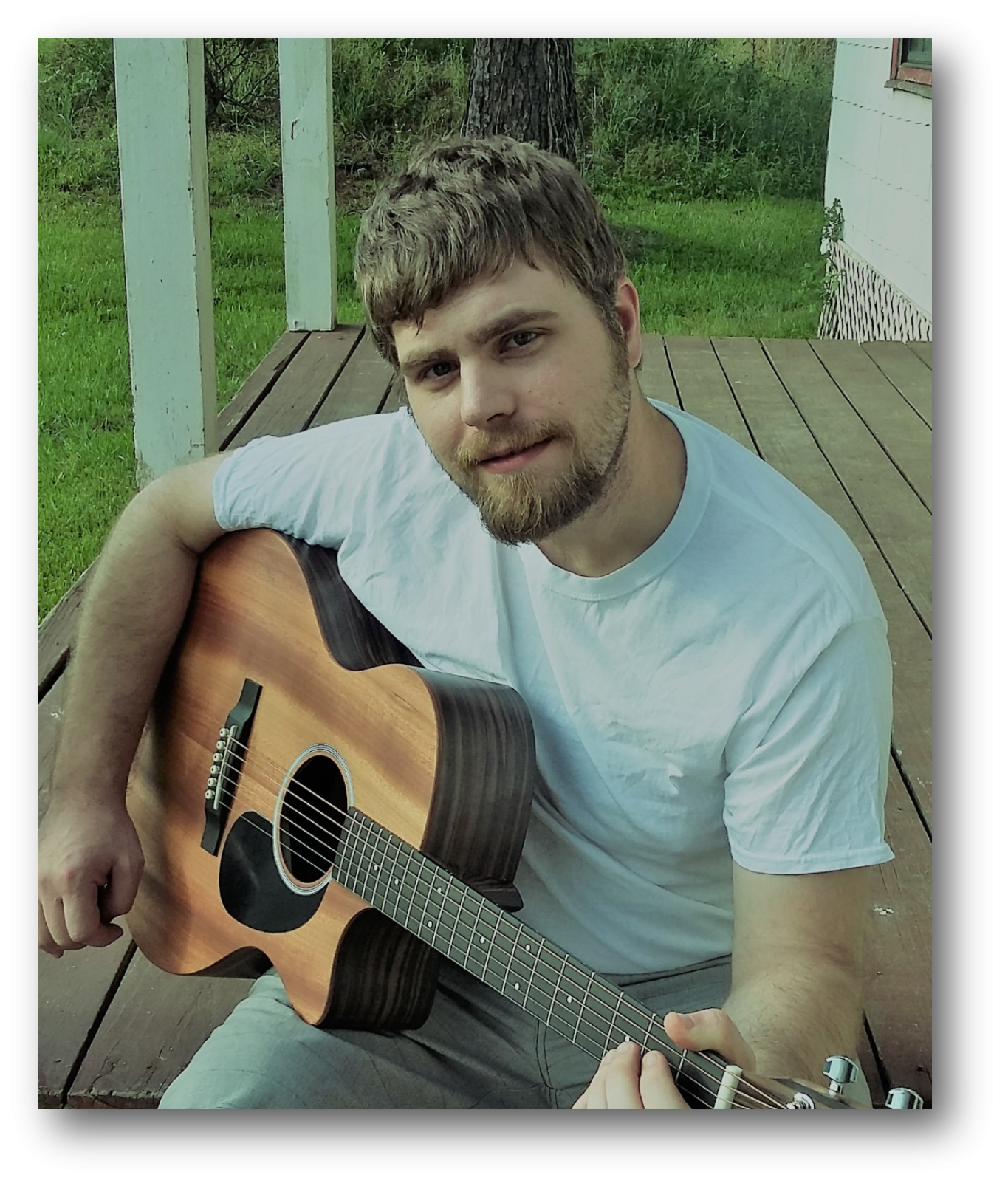 ALEX WINDSOR

Guitar, Bass Instructor

Performance WorX welcomes ALEX WINDSOR as Instructor in GUITAR. Alex Windsor is a native of Norton, Kansas and attended High School in Abliene High in Abliene, Kansas. After finishing high school, he signed up for the military. Mr. Windsor did a couple tours overseas from 2006-2012 in the US Army and also did tours in Iraq and Egypt. Interestingly, Mr. Norton spent time in Russia working as a Russian translator for the US government. He is now joining the Music WorX faculty as guitar instructor. Mr. Windsor comes to us having played the guitar since he was 15 years old. Windsor played guitar in Jazz Band in high school. Listening to Bob Seger, Led Zeppelin, Jimi Hendrix, and other guitar greats influenced him when he was young and starting out. Mr. Windsor attended college at Kansas State University for 2 years 2010-2012, majoring in music and composition. He began his music career in a band originating in Kansas and spent much time learning music along the way while touring around the Midwest. SInce arriving in Mississippi in 2016, he has pursued song writing, and has been recording his own original music. Mr. Windsor's students can look forward to excellent modern guitar instruction with solid musicianship skills emphasizing solo playing, chord accompaniment, and chord-melody style. Go to Classes & Registration or call Performance WorX at 601.336.5313 to set up lessons with Alex Windsor today!
DANCE INSTRUCTION AT

X-FINITY DANCE ACADEMY!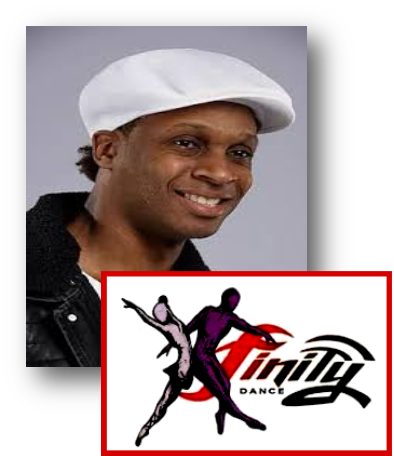 E. Jae James

X-Finity Dance Academy

Our Partners for Dance Instruction

Performance WorX proudly announces our association with Xfinity Dance Academy of Hattiesburg and its owner E. Jae James! X-Finity Dance Academy is a unique dance studio by offering more than just dance classes in it's state-of-the-art studios. X-Finity Dance Academy provides a family environment that creates positive lifetime memories for EVERYONE who visits us - the dancers, their families, and their staff. E. Jae and his faculty offer dance classes for all ages and abilities, variety of class styles, positive and caring instructors, top-notch dance education, multiple dance class times to fit family schedules, flexible enrollment options and more!
E.Jae James (Choreographer, Artistic Director, Dance Educator), originally from Wiggins, Mississippi, began early training from dance studios in the Mississippi, Alabama, and Louisiana areas. E.Jae continued training on scholarship at The University of Southern Mississippi of Hattiesburg, Mississippi. He started studio training at the age of 15 and has continued to dance and choreograph since then. Dancing has been his long life dream and gift. Graduating with honors he received his BFA in Dance Education/Performance and Choreography.

Call Performance WorX at 601.336.5313 or go to www.xfinitydance.com to set up lessons and classes with X-Finity Dance Academy today!