REAL. LIVE. ACTING TRAINING.



Acting WorX teaches the SKILLS that make SPECTACULAR happen!
From Shakespeare -- to Film/TV -- or Musical Theatre, in our
Acting WorX
Division, students will learn: Proper Use of the Voice in Acting; Basic Stagecraft; Stage Presence; Character Development; Monologues; Improv; Comedy; Music on the Stage; Overview of the Entertainment Industry; Audition/Interview Tips & Practice; and Musical Theatre.
Acting WorX is a skills-based academic approach to the study of theatre which leads the students through a matrix of specific skills needed for success in today's film & TV industry, advertising work, and the stage.
Through our
Broadway Babies & Kids
and
It's Broadway Time!
programs, students will begin, and become increasingly involved in, formal basic acting training for the Stage and the Film/TV Industry, for the different genres of musical theatre, and the skills needed for each, along with preparation for involvement in stage, film, and commercial acting. Students' knowledge with music, dance, and acting, in combined effort, will be enhanced and expanded. Through our
Natural Talents 1 & 2
programs,
Performance WorX
community theatre involvement, and encouraged participation in professional theatrical organizations, students are led progressively through deeper and deeper levels of theatrical knowledge and skill, leading to the ability to develop agency relationships for placement and the possibility of a career in acting.
PRIVATE LESSONS: Many of our students enroll in PRIVATE ACTING LESSONS, where they enjoy one-on-one attention from their instructor, and focus their work on specific areas of need or interest to achieve their goals as an Actor. They still progress through the same age-appropriate classes and levels listed below on an individual basis.


ACTING CLASSES & LESSONS

Acting 101—105 — Broadway Babies -- Ages 4-6
Acting 201-205 — Broadway Kids --Ages 7-11
Acting 301—304 -- It's Broadway Time! -- Ages 12—15
Acting 401—405 -- Natural Talents 1-- Ages 16 & Up
Acting 501--505 -- Natural Talents 2 -- Ages 16 & Up
Master Classes & Workshops in Specific Skill & Subject Areas
Other Stage Production Classes taught through Production WorX

Performance WorX , through its Acting WorX division, DOES NOT produce major stage events, but instead serves as an ACADEMIC TEACHING UNIT, training and preparing budding artists for participating in their school programs, local theatrical production venues, and Film/TV opportunities which abound in the Pine Belt and South Mississippi.
WE TEACH THE SKILLS ALL ACTORS NEED TO BE ABLE TO SUCCEED!
Classes and Electives taken in the Acting WorX & Production WorX Curriculum lead to the cumulative ACTING WorX CERTIFICATE which signifies a balanced training in the field for Academic & Film Industry Workforce Training.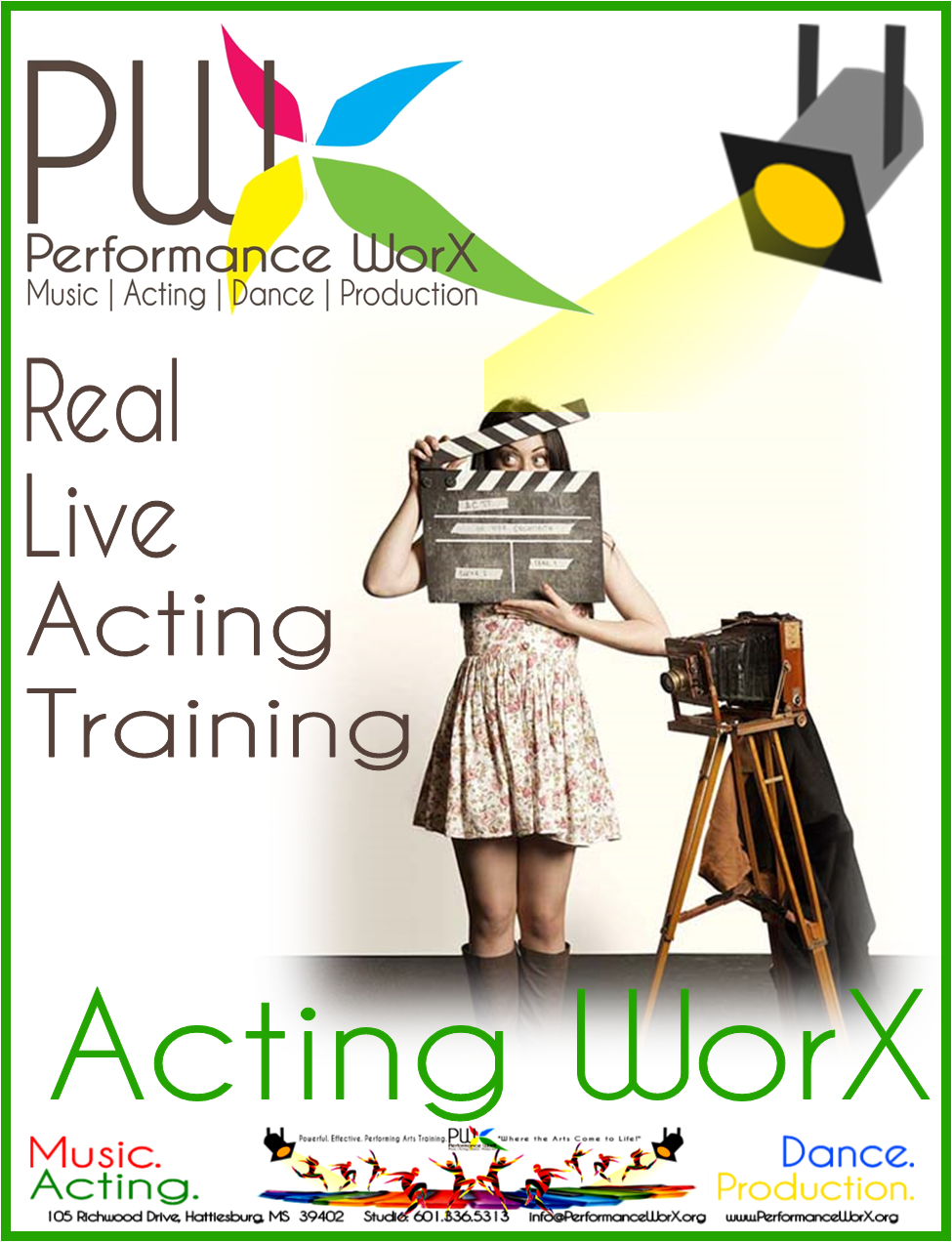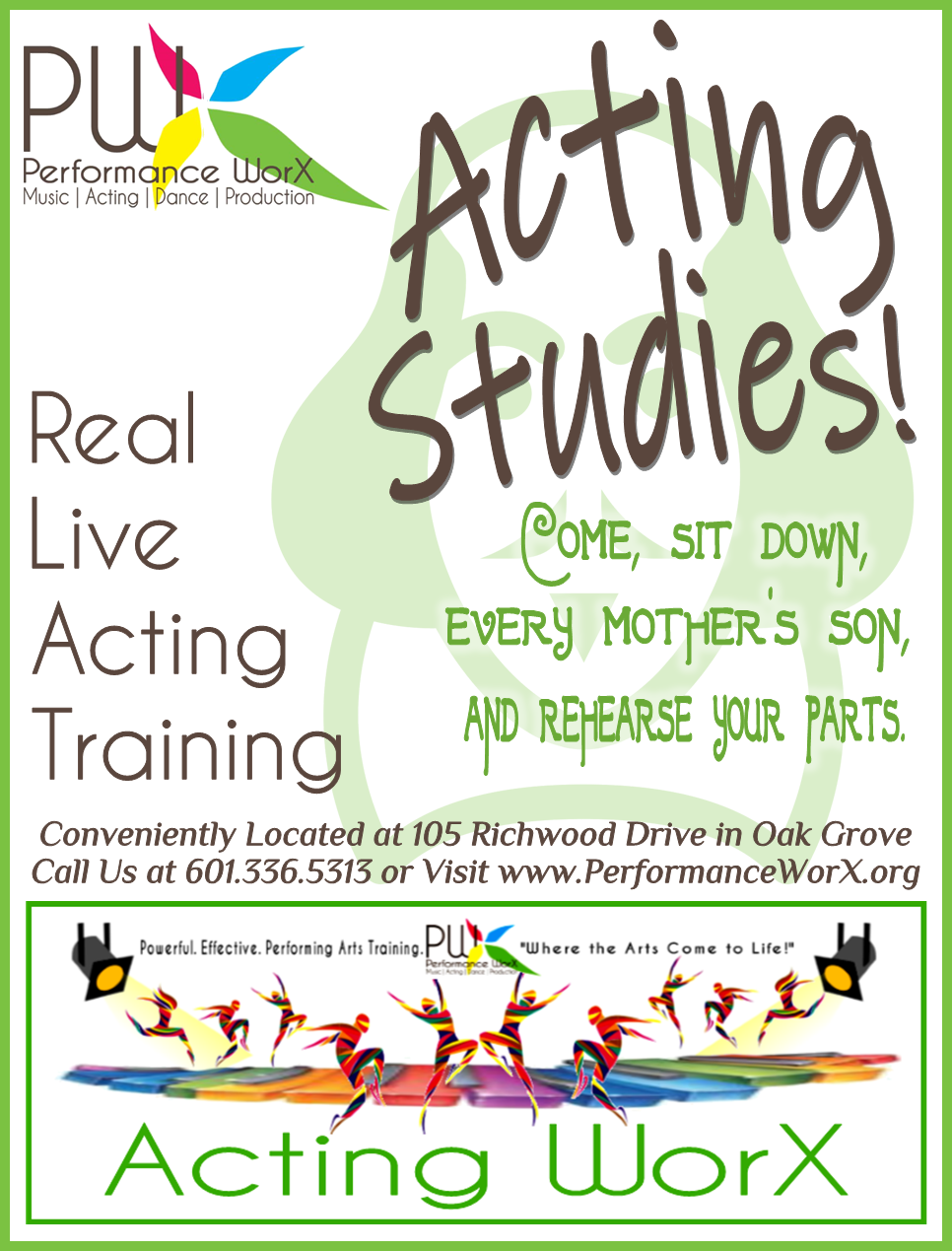 PLEASE TELL US ABOUT YOUR INTEREST IN PRIVATE ACTING LESSONS
ThanX so much for your interest in
our programs!