Trumpet, Trombone, French Horn, Euphonium, Baritone, & Tuba Lessons
STRIKE UP THE BAND! Music WorX offers trumpet, trombone, French Horn, and Euphonium lessons for ages 5 and up. Recognized by Music Teachers National Association, our brass lessons are skillfully designed to offer individualized, graded instruction leading the student from beginning knowledge of their instrument, through many styles of performance and play, to an advanced program for the classical performer. Both private and group lessons are available to meet you needs in both the half-hour and one-hour format. Whether your interest is that of a community band hobbyist or you desire to become a professional performing artist, there is a place for you to study and grow at Performance WorX, "Where the Arts Come to Life!"
For more specific BRASS questions and answers, please click
here
!
ALL TUITION PRICES LISTED ARE THE MONTHLY PRICE FOR THE ANNUAL MEMBERSHIP PLAN!!

Our Instructors & Classes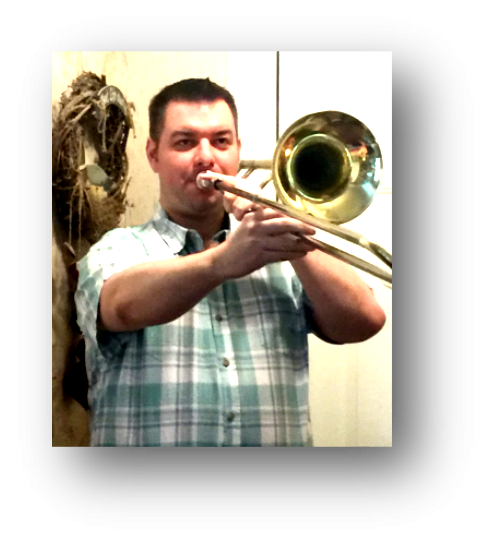 ROSS ANDRUS

Piano, Percussion, Woodwinds, and Brass Instructor
For over 5 years, Ross Andrus has had the pleasure of teaching, arranging, and performing as a Faculty Member with the Performance WorX Family. Ross takes immense pride in teaching wind instruments, piano, percussion, and music theory. His Alma Mater is The University of Southern Mississippi, where he majored in Jazz Studies and Music Education. During his college years, he played Tenor and Bass Trombone in many solo and ensemble settings. Ross studied with Trombone Professor, Dr. Marta Hofacre, who taught him the importance of performing with the best sound in mind, no matter the level of technicality. While learning to play music in the jazz idiom, Ross was assigned to study under Leland "Lee" Kornegay. After a semester of playing in small groups and ensembles, Ross had an "A-Ha" moment. After listening to Lee's instruction and demonstrations on his trumpet, Ross took on a new musical mentor. He also acquired an affinity for writing and arranging for chamber groups, wind bands, rock bands, jazz combos, and jazz ensembles, to name a few. Ross was a member of the USM Orchestra, Wind Bands, Jazz LAB Bands, Pride of Mississippi Marching Band, and Jazz Combos. Before attending Southern Miss, Ross went to Acadiana High School in Lafayette, Louisiana, where he decided to pursue a career in music. While playing in an hour of band class, Dr. Hofacre decided to drop by after travelling through the area of recruitment for USM and taught an impromptu trombone master class. Not only did she leave a lasting impression on him, but she unknowingly recruited a future student of hers. Being born and raised in Lafayette, Louisiana, Ross was always around good music, whether it was listening to his dad play bass, grandfather on Cajun fiddle and accordion, or road trips to New Orleans. His influences range all the way from Paul Simon to Queen, and Duke Ellington, Wynton Marsalis, and JJ. Johnson.

Enroll in the class of your choice by clicking to register below or call Performance WorX at 601.336.5313 to set up lessons with Ross Andrus today!
BM, The University of Southern Mississippi, Jazz Trombone
BME, The University of Southern Mississippi, K-12 Music Education



ALL TUITION PRICES LISTED ARE THE MONTHLY PRICE FOR THE ANNUAL MEMBERSHIP PLAN!!